Swarovski – Lalique – Rosenthal – Val Saint-Lambert – Waterford- Gallé Müller – Riedel – Steuben- Tiffany.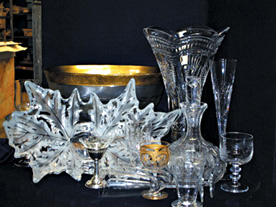 I am proud to say that people turn to me to repair crystal items that appear to be beyond salvation and that I have been known to restore lost causes. From polishing a chipped glass to remodeling a crystal sculpture, a wide variety of options are possible while working with glass: bonding, grinding, polishing, rebuilding, remodeling, smoothing…

I can usually restore the use of a broken vase, decanter, dish and wine glass or the beauty of a broken crystal piece. I also repair crystal chandeliers and candlesticks. Don't hesitate to contact me to discuss what can be done for your glass or crystal piece.
We are recommanded by Swarovski Canada to restore their precious crystals.
| Before | After |
| --- | --- |
| | |
|   | |
|   |   |
|   |   |
|   |   |
|   |   |
|   | |
|   |   |
|   |   |
|   |   |